Upcoming titles from Ann Cory
In the next few months I'll have some brand new titles to tantalize you with! Starting with:
Snake Charmer
releases Jan. 9th from Ellora's Cave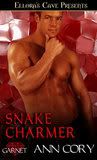 Blurb -
At an open-air market, a lavish red scarf adorned with a beautiful garnet catches Berlin's attention, to the point of obsession. She hears a deep male's voice, rich and seductive, taunting her to buy the luxurious item. Using the last of her money she purchases the scarf, and takes it home, unaware it is merely an illusion.
Faotin finally escapes a darkness that has plagued him for years. He knows his only chance at freedom is to break the curse of the garnet and sever the ties created by Eclipse, a vicious Naga queen who used him for her own pleasure. Faotin's plan is to seduce and kill a naïve woman, but everything changes as Berlin's warmth and alluring beauty thaw his cold, vengeful heart.
As Berlin and Faotin give into their heated passion, they both realize there is more to their feelings than either dares admit. While Berlin charms the handsome shape-shifting snake of a man, the wicked Naga queen, Eclipse, prepares for one final deadly strike.
Followed by:
Lust Detector
coming February 2008 from Total-e-Bound Publishing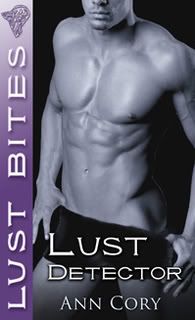 Blurb -
Ever since Savannah Scott caught sight of the new young police officer jogging in his tight shorts, she can't get him off her mind. Nights are gruelingly long and her fantasies are scorching, making her body burn like an inferno for him. Savannah comes up with an idea to capture his attention and quickly finds herself with a collection of speeding tickets.
Officer Alec Downs finds himself repeatedly pulling over Ms Scott, the sexy thirty-something woman with a fabulous bod and vivacious energy. Unable to keep his mind on his job, he decides to take matters into his own hands and find out once and for all what her motives are. All he needs is a pair of handcuffs and a little machine called a Lust Detector.
And I can't forget
Saucy Minx
coming soon from Liquid Silver Books!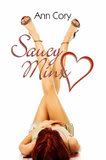 Blurb -
Willing to try anything to get the attention of a handsome regular customer, Minx adds aphrodisiacs to the pizza she serves him every day for lunch. Suddenly, Holden is seeing the sultry waitress from Pesto's Pizzeria in a whole new light, and he wants to spend every minute with her. It's what Minx has always wanted, but are the ingredients for a spicy night a recipe for disaster instead?
Now, these are just the ones I have the cover for -- so be on the look out for more information coming on these following titles, that will also be available in 2008!
Mississippi Twilight
from Ellora's Cave
Witching Well
from Ellora's Cave
Vows of a Vampire
from Total-e-Bound
Sand Goddess
from Forbidden Publishing
Unladylike Behavior
from Forbidden Publishing
Summer Sensations
from Midnight Showcase
~Ann Cory :)