Men and chocolate make for a very Spoiled Candy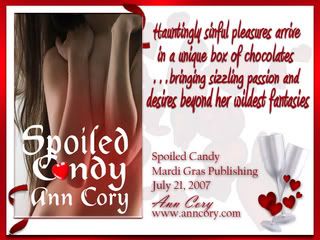 Spoiled Candy
by Ann Cory now released!
Hauntingly sinful pleasures arrive in a unique box of chocolates...bringing sizzling passion and desires beyond Candy's wildest imagination!
With each scintillating treat she consumes, the soul of a man is released. As a reward they offer her a lifetime of personal satisfaction. Whatever, whenever, and however she wants.
For an excerpt, click here:
http://www.anncory.com/spoiled.htm
To purchase, click here:
http://www.mardigraspublishing.com/spoiledcandy.html
5 Lips from Two Lips Reviews
"...scintillating, sizzling, story sure to spoil any reader."
~Reviewer Frost
Ann Cory
http://www.anncory.com